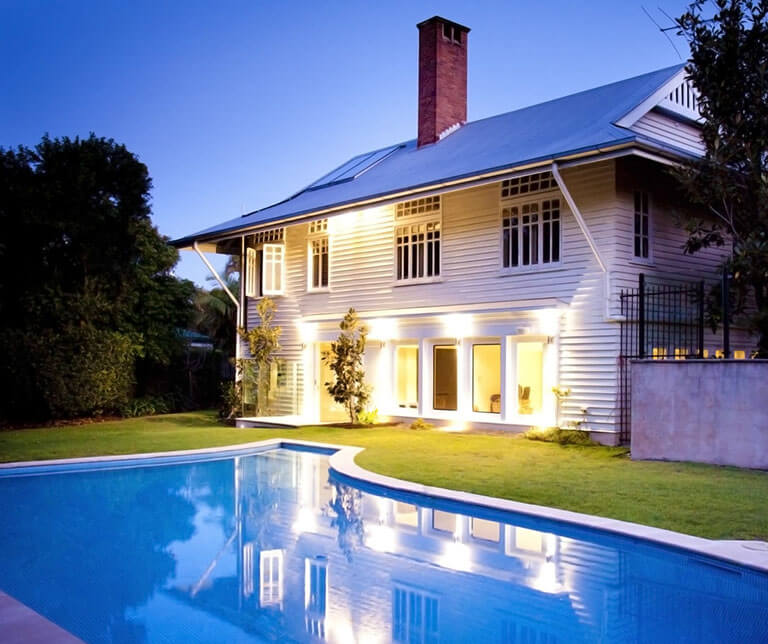 Understand the true costs and how to avoid budget risks involved when choosing a luxury home builder in Brisbane and get the home you've always dreamed about.
The costs of building a luxury home in Brisbane can seem mysterious and it's natural to wonder whether you're being ripped off when you put your faith in the hands of a builder.
Do builders just load all their contracts by tens of thousands to make a profit? If that were true, there wouldn't be so many builders that fail or go broke every year.
Apart from choosing a builder you can trust that also communicates well, understanding more about how new homes are costed is essential in order to evaluate quotes and then find a builder that can actually deliver what they promise.
The Average Building Company is Making Zero Profit
That's right. Your typical luxury home builder in Brisbane is making little to no profit and if that doesn't worry you, it should. Why? If you're considering buying a new home, you want to partner with a reliable company that's actually running a profitable business.
Sometimes the lowest price can blind you to the fact that a builder is simply desperate for work because they are close to going out of business. Unfortunately, this is something we see all the time. Unless you are willing to finish your home yourself, it's not worth the risk.
In reality, if you had $900,000 to spend on your new luxury home, the actual amount going towards building it would be just $804,907 after taking into account GST, compulsory home warranty insurance and portable long service leave levy. On top of that, you have the labour and material costs—the biggest expense!
How Much Should it Cost You to Build a Luxury Home?
A lot of buyers don't know what their new home should cost or how the industry works, so they go ahead and choose the lowest price or sign a cost-plus contract, rather than securing a fixed price for a fixed outcome that may, initially, appear more expensive.
There are three big problems with that approach:
1. Low-profit builders are high risk:
Chances are your builder is making very little money (less than 1% profit) from your job. Low cost means a high risk of not completing the work—leaving you often hundreds of thousands out of pocket and a build that can take years to complete….. A certified professional and well-established builder is more likely to fully understand the true costs involved with your new home, and they are also independently audited and certified as being financially solvent every 90 days.
2. Most builders are poor number-crunchers:
It's possible that a low-cost builder is technically skilled, but when it comes to providing an accurate estimate of costs, many Brisbane builders are presenting dubious figures designed to win work, but with no basis in reality. Have they factored in all the costs that need to be accounted for before building begins as well as during the build?
3. Cost-plus contracts can get out of control:
A lot of homeowners think a cost-plus contract—where they pay for everything associated with the build (labour, materials and supervision) and then pay the builder an additional margin on top—sounds like a great deal and rush to sign one.
These contracts remove the incentive for your builder to get the best value. They have no reason to negotiate hard to secure trade discounts from material suppliers that can be anywhere between 20%-30%. Although paying a builder 15% on top of cost might seem ideal, in the long-run, you could regret it and end up spending a lot more.
Professional builders cover all your bases
When you deal with a professional luxury home builder in Brisbane—and one that knows their numbers—you don't have to be concerned about whether the job will get done or any additional, unexpected costs. You agree to a guaranteed fixed price for a guaranteed fixed outcome on a guaranteed fixed date.
If prices go up, the builder pays. If there are delays, the builder covers the costs (and may even have to pay you for each day the home is late). Reducing your risk means choosing what at first seems the more expensive option up front, and it may end up saving you hundreds of thousands of dollars later on.
Discover more insider knowledge you need to choose your builder wisely by downloading our free guide to 'The 7 Things You Must Ask before signing your building contract"